Department of Biology Faculty Members
Indiana University of Pennsylvania:
"Who We Were"



1968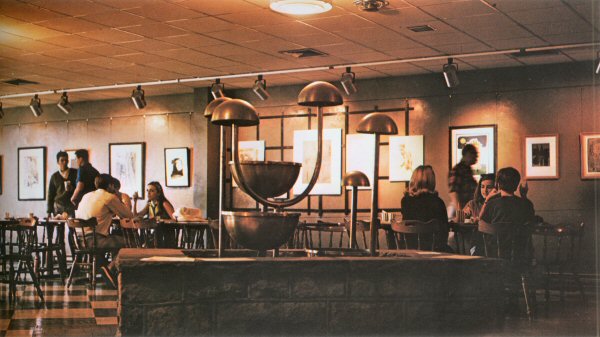 This is a 1967 – 1968 photo of Shaver Spring preserved inside the old student union building in a small cafeteria area in the basement - as an acknowledgement of its historical significance during the French and Indian War. In 1756 Lt. Col. John Armstrong camped here on the way to raid the Indians in Kittanning. In 1976 the spring was still seen flowing with water with a plaque nearby:
Shaver Spring
Troops camped here Sept. 6, 1756
Led by
Lt. Col. John Armstrong
Erected by
James LeTort Chapter
Daughters of American Colonists
1963
A later renovation of the cafeteria area covered up the spring (no running water) but the plaque remained on a reduced "planter" at the same location. The same location is now a part of the new Co-op Store with the same plaque attached to the wall, but it is mainly hidden behind merchandise. The previous structures marking the spring's location no longer exist.
"The Kittanning Expedition, also known as the Armstrong Expedition, was a raid during the French and Indian War that led to the destruction of the American Indian village of Kittanning, which had served as a staging point for attacks by Delaware (Lenape) and Shawnee warriors against European-American colonists in Pennsylvania. Commanded by Lieutenant Colonel John Armstrong, this raid deep into hostile territory was the only expedition carried out by Pennsylvania during a brutal backcountry war." (http://www.answers.com/main/ntquery;jsessionid=56lflo2i7vck8?method=4&dsid=2222&dekey=Kittanning+Expedition&gwp=8&curtab=2222_1&sbid=lc05a&linktext=Kittanning%20Expedition) For more information also see http://reenacting.net/kittanning2006/2000_expedition.htm.
Back to Front Page of "Who We Were"
Back to Dr. Ray Winstead's Front Page