Celebrating
E. D. Winstead's
90th Birthday!

March 31, 1945 Receiving the Key to the City of Wilson, North Carolina
(Recently returned from the Philippines after being a Japanese Prisoner of War for three years)
From a 1994 speech:
"But let us end on a happier note. On Saturday, 31 March 1945 it was great to return to Wilson. I was honored with a band, a parade, greeted by a big crowd of friends in front of the Wilson County Court House with Lt. Col. J. J. Kruzee representing Seymour Johnson, a fly over of fighter aircraft and L. Y. (Stag) Ballentine, the Lieutenant Governor of North Carolina in attendance, and all of the festivities being broadcast over WGTM with Clint Farris as Master of Ceremonies. And I still have the "Key to the Heart of Wilson" which was given to me during the ceremonies by Mayor J. M. Fitzgerald.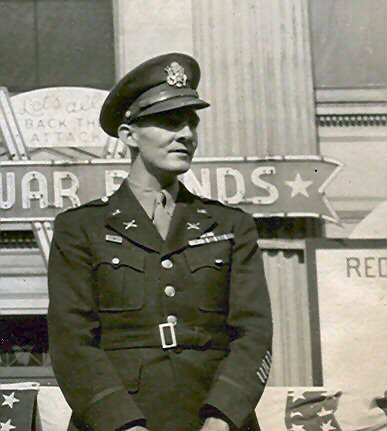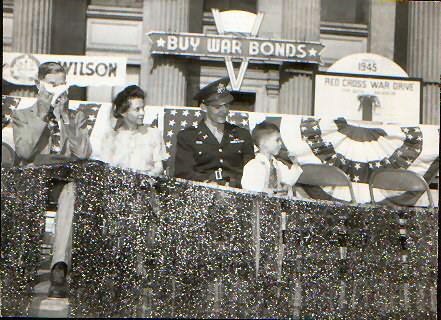 F. J. Winstead, Jo Winstead, EDW, Dee Winstead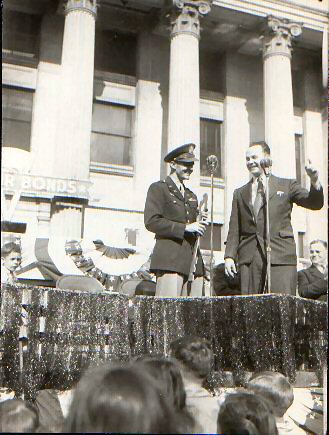 Dee Winstead, EDW, Clint Farris (WGTM Radio), ?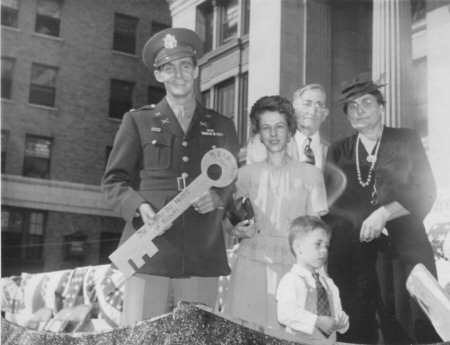 E. D. Winstead, wife Jo, father Frank, mother Nettie, son Dee.
(Click photo or here for much larger photo.)
Back to Dr. Ray Winstead's Front Page