Department of Biology Faculty Members
Indiana University of Pennsylvania:
"Who We Were"



1888
A faculty member listed in the 1888 "Clionian" was
Albert Elias Maltby, A.M.; C.E. "Natural Sciences"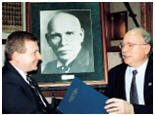 Dr. Albert E. Maltby (center photo) was the subject of SRU graduate Dr. Eugene Coleman Ney's (left) doctoral dissertation at the University of
Pittsburgh. Dr. Ney visited campus recently (1998 - 1999) to present President Smith (right) with a copy of the work which details Maltby's 26 years of leadership of what was then Slippery Rock State Normal School.
(from http://www.sru.edu/downloads/upr/rock/Spring_99/38-41.pdf)
Obituary and biographical summary in the Cornell Alumni News August 1924
(http://ecommons.library.cornell.edu/bitstream/1813/3541/1/026_40.pdf)
Albert E. Maltby '76
Albert Elias Maltby died at his home in Grove City, Pa., on May 27 from an attack of heart failure. He was born at Pulaski, N. Y., on October 27, 1850, the son of John and Rachel Crawford Maltby. He secured his early education in the public schools and academy at Fayetteville, N. Y., and entered Cornell in 1872, graduating in 1876 with the degree of B.C.E. After leaving college he took up teaching, going first to the Ury School in Philadelphia, Pa. In 1878 he was appointed an engineer on the survey of the boundary line between Guatemala and Mexico. In 1880 he accepted a professorship of mathematics and astronomy in St. Mark's University School in New York and in 1884 he became professor of natural sciences at the State Normal School at Indiana, Pa. He remained there for five years and then took charge of the training department of the Normal School at Millersville. At Millersville he made an enviable record, which he further improved after he became principal of the Normal School at Slippery Rock, Pa. He held this post for twenty-six years and then retired from active teaching to live in Grove City. He was the author of several books which enjoyed great popularity. Among them were: "Froebel's Square" and "Map Modelling in Geography," both text-books, and "The Story of our Flag", "The Pennsylvania Citizen," and "Primary Civics." He received the degree of LL.D. from Grove City College and that of Ph.D. from St. Lawrence University. He is survived by his wife, one brother, and one sister.
Back to Front Page of "Who We Were"
Back to Dr. Ray Winstead's Front Page