Department of Biology Faculty Members
Indiana University of Pennsylvania:
"Who We Were"



1934, 1935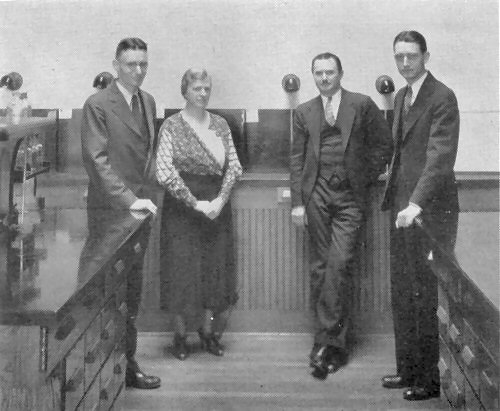 Department of Science
Indiana State Teachers College

left to right:
Thomas Smythe, B.S., M.A., Ph.D. (Head of Department and Biologist)
Ruth V. Brenneman, Ph.B., M.A.
Wilber Emmert, B.A., M.A.
Merrill B. Iams, B.S., M.A. (Biologist)
From the Indiana Evening Gazette March 27, 1935:
The Horace Mann PTA met yesterday afternoon at 3 o'clock. A very interesting program given. A group of bird songs were sung by the 4th grade pupils of Miss Herndon under the direction of Mr. Samuel Green student teacher. The talk of the afternoon was given by Dr. Thomas Smythe of the Science Department of State Teachers College who with colored slides showed our feathered friends the birds. Dr. Smythe in manner described the economic and aesthetic value of birds. He asked for cooperation in protecting birds, depicted the beauty of the calls by imitating almost all the birds as he showed them, and then he told of their great use and economic value in keeping down insect pests.
Back to Front Page of "Who We Were"
Back to Dr. Ray Winstead's Front Page