Department of Biology Faculty Members
Indiana University of Pennsylvania:
"Who We Were"



1935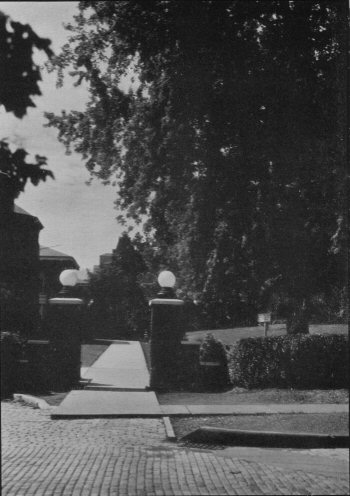 This photo of North Gate appeared in the 1935 annual yearbook The Oak. See the 1927 yearbook photo from the other direction. Weyandt Hall would later occupy the area to the left of this "gate" entrance into campus. The brick road seen on this side of the gate no longer exists and basically merges into the same location as the present entrance walkway into Weyandt Hall. The sidewalk pictured coming in from the right would now lead into Weyandt Hall on the left. These brick pillars were moved alongside Oakland Avenue behind the photographer taking this photo. They were there in 1976 and then replaced later by a larger brick entrance (in the early 1980's?).
Back to Front Page of "Who We Were"
Back to Dr. Ray Winstead's Front Page